The Changing Face of Facebook: 37 Facebook Changes You May Have Missed
Close behind the weather, Facebook changes seem to be our second choice if we are looking for something to complain about. I don't think there is any industry right now where it is more important for competitors to stay fresh and innovate. Social Media tools evolve at an incredible rate and Facebook needs to stay ahead of the game to maintain it's industry leading position.
Some of the changes are clearly driven for Facebook's new need to focus on shareholder value. This is sad and will (in my opinion) be the very reason the most popular Social Media Platform will eventually be replaced by a competitor that focuses less on revenue and more on social interaction. However, right now Facebook has over 900.000.000 users and dominates many online markets world wide.
As aggravating as constant change is, I find most of the changes Facebook has made in the last year positive.
Clearly the biggest change at the end of 2011 was the introduction of Timeline for Profiles with its large cover image and the ability to build a seamless history stretching beyond the launch of Facebook in 2004. The popular Social Media Platform is now a good solution for anybody that wants to paint a picture of their whole life. Remember when personal blogs became popular? Many of us wanted to do just that.
With Timeline came another worry about privacy – many were confused and there were many confusing messages going around. I wrote a blog post you may want to review: Facebook Privacy Settings Are Not Scary
In January 2012 Timeline became available worldwide and by now most Profiles feature the large Cover image and I for one really like it!
For brand pages Timeline was also the biggest innovation. Early 2012 we saw this major interface update coming in. After overcoming the shock of losing default landing tabs and making Welcome pages pretty much obsolete I think most of us now appreciate the opportunities of a cleaner interface and the large cover image.
You can find a short video summary about the changes here: Facebook Timeline for Pages – flyover
On my page I have created a section called Social Media Tips where I share short instructions on how to use some of the new functions like:
There are many more changes and only listing them took a long time. Have a look at this list – please vote on the changes you find most important and please leave a comment if you need help with any of the new functions.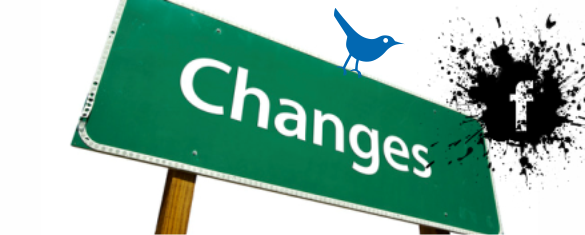 ︾
Facebook changes 2012
Keeping track of recent Facebook changes for a blog post: The Changing Face of Facebook: 37 Facebook Changes You May Have Missed
I found 37 major changes for Facebook in the first half of 2012 - please add any I forgot and vote for the most important change!
UPDATE on Tuesday, January 24th, 2012: 
Last year we introduced timeline, a new kind of profile that lets you highlight the photos, posts and life events that help you tell your story. Over the next few weeks, everyone will get timeline....

Blog post at Tweet4Ok : On February 29th 2012 Facebook announced Timeline for Pages
These changes become standard on March 30th but you can get it now!
In my opin[..]

Facebook added another feature to its desktop chat function: an icon next to a user's name that provides a link to their timeline when hovered over.

Facebook added an easier way for page administrators to toggle between posting under their actual names or posting as the page.

Facebook announced Wednesday that it is making it easier to change the username of a Facebook page. Before, page administrators would have to submit a request to change the username, but not anymore.

Yesterday, Facebook made a subtle switch to users' contact information: swapping out whatever email address they had listed in favor of a Facebook email account. While reaction has been overwhelmingly negative, the company hasn't exactly backed down, saying that these changes were announced in April.

Instagram, which was recently acquired by Facebook, will start integrating social sharing options into the application. Now, Instagram users can choose to automatically have their photos post to their Facebook timelines.

The events function on Facebook continues to undergo tweaks, with the addition of the ability to export the event to users' calendars, as well as the addition of a gear menu with additional options.

Facebook users now have (or will soon) the ability to edit their comments at any time, rather than the grace period of a few seconds the social network previously allowed. However, in order to prevent instances of revisionist history ("I never said that!"), Facebook will indicate when comments have been edited, and clicking on the edited link will bring up an edit history.

They cannot be killed. They only come back stronger. Zombies? No: Emoticons, which Facebook added to its chat feature for desktop users.

Facebook added a new feature, available to users who have upgraded (or been upgraded) to timeline: When users hover over the names of other users or pages in their news feeds, a small image appears, displaying information from the target's timeline.

Users of blogging platform WordPress can now take advantage of greater integration with Facebook following the social network's release of a plugin that enables features such as social publishing and mentions.

Facebook slightly increased the type size for user names and text in wall posts in the news feed, making them a little easier to read for most people, except one developer, apparently.

Facebook continues to tinker with how users can control their notifications settings, with the notifications section under account settings now offering a host of options.

Twitter integration enhancements with Facebook occurred late last month in a rather hush-hush manner, and the silently rolled-out changes are intended to improve how Twitter pages, photos, hash tags, and user names cross-pollinate on Facebook.

The leak is now a launch, as Facebook began rolling out its app center to users in the U.S. Thursday night, saying that it will be available to all users "in the coming weeks."

Facebook began importing some of the changes it made to its mobile photo layout last month onto its Web news feed, increasing the size of photos and displaying more of them from the same album or event.

Facebook pages with more than 400 likes now have another advertising option in the form of the promote button the social network announced in test form in late April, as its rollout was confirmed on the Facebook Marketing page Wednesday.

Facebook added a feature for page administrators that had been available via third-party tools such as Buffer, allowing them to schedule posts in advance.

Facebook organized page administrators into five levels, following up on its announcement at the Facebook Marketing Conference in New York Feb. 29.

Some Facebook users are seeing the option of liking a brand page directly from a post due to the addition of a new like button near the top, next to the name of the page.

Facebook has been trying to pin down the best way to handle notifications for months and months, and its latest attempt to help users control incoming notifications is the addition of an instant option to turn them off for specific applications, groups, events, or posts.

Facebook began rolling out an improved layout for posts with photos across all of its mobile platforms (Apple iOS, Android, and its mobile website).

Fewer than one-half of Facebook's 900 million-plus monthly average users take advantage of its groups functionality, and many say it is the most underused feature. But this may soon change, and we may see a spike in groups users.

Facebook has begun pushing its users to take advantage of the smart friend list features it introduced last September.
Facebook is still the best tool to convert happy clients to brand ambassadors, especially if you are trying to engage customers in conversation. If you have any Facebook questions, please contact me directly or post them on my Facebook Page. I am happy to create a professional Facebook presence for you and either teach you how to use Facebook effectively or manage your Facebook Page for you.